Zodiac Signs
Your Spirit Animal By Birthday In The Chinese Zodiac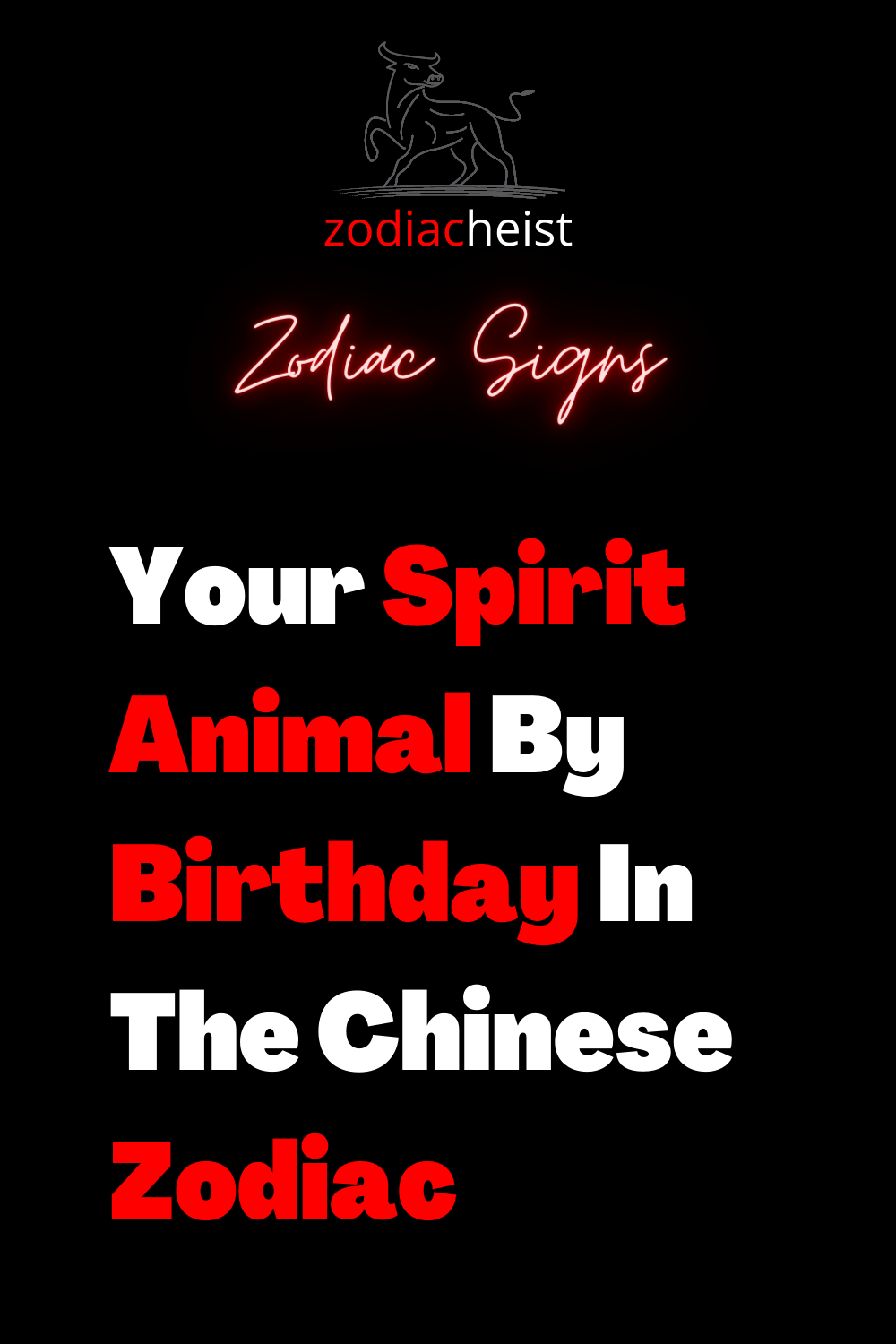 Your Spirit Animal By Birthday In The Chinese Zodiac
When talking about Chinese zodiac signs, you usually hear about the importance of the birth year. However, months and even days are ruled by different animal spirits.
Chinese astrology is based on the lunar calendar. For this reason, the exact dates don't always correspond to the Western calendar, but they're possible to determine.
If you've ever wondered, "What is my spirit animal by birthday in the Chinese zodiac?" you should consider your sign by year as well.
Knowing both will lead to a deeper understanding of your personality.
Tiger (February 4 – March 5)
(1950, 1962, 1974, 1986, 1998, 2010, 2022)
Tigers are brave and thrill-seeking. They love to experience the world fully, and they are idealistic, impulsive, and playful. People are drawn to their magnetic natures.
When their lives get hard, their confidence can turn into arrogance and selfishness.
Rabbit (March 6 – April 5)
(1951, 1963, 1975, 1987, 1999, 2011, 2023)
Rabbits are artistic souls. They're kind, sensitive, and feel their emotions deeply while being unafraid to share them. They have refined taste and are hopeless romantics.
On the other side of the coin, they can be timid and prone to being judgmental.
Dragon (April 6 – May 5)
(1952, 1964, 1976, 1988, 2000, 2012, 2024)
In Chinese tradition, Dragons are magnificent beings. People born under this sign are the same: intelligent, generous, and bursting with energy. They're outspoken and competent.
When things get difficult, they can be egocentric and demanding.
Snake (May 6 – June 5)
(1953, 1965, 1977, 1989, 2001, 2013, 2025)
Like the animal, people born under this sign are grounded. Being curious and clever, the Snake gains wisdom as it moves through life. They're alluring and interesting.
Their negative side can manifest as being anxious, calculating, and jealous.
Horse (June 6 – July 5)
(1954, 1966, 1978, 1990, 2002, 2014, 2026)
People born under the sign of the Horse are bright and full of energy. They're independent but still fun to be around, and their enthusiasm is contagious.
On the other hand, their cheerful nature can go to the other extreme, and they become irresponsible and sometimes moody.
Goat (July 6 – August 6)
(1955, 1967, 1979, 1991, 2003, 2015, 2027)
Goats are easygoing and move at their own pace. They seek balance and love to express themselves creatively. With other people, they're gentle, and their empathy makes them well-liked.
Their weak point is that they can be lazy and disorganized.
Monkey (August 7 – September 7)
(1956, 1968, 1980, 1992, 2004, 2016, 2028)
People born under the sign of the Monkey are charming and fun-loving. They're sociable, and people like being around them.
They use their intelligence in creative ways.
When things go wrong, Monkeys can be unreliable and disloyal.
Rooster (September 8 – October 7)
(1957, 1969, 1981, 1993, 2005, 2017, 2029)
The communicative Rooster always has something to say. They're proud and loyal, and they give their all to helping others.
Roosters can become egotistical and prone to arguments in difficult situations.
Dog (October 8 – November 6)
(1958, 1970, 1982, 1994, 2006, 2018, 2030)
The Dog's loyalty is well known, as well as how beloved they are. They're honest and friendly, and it's easy to trust them and rely on them.
Negative aspects of the sign of the Dog are pessimism and anxiety.
Pig (November 7 – December 8)
(1959, 1971, 1983, 1995, 2007, 2019, 2031)
Very intelligent and honest, people born under the sign of the Pig are well-respected. They're generous and diplomatic, always showing care for others.
Impatience and the tendency to be materialistic are their weak points.
Rat (December 7 – January 5)
(1960, 1972, 1984, 1996, 2008, 2020, 2032)
The Rat is communicative and charming. People born under this sign can adapt to any situation. They're ambitious and resourceful, so they can do anything they set their minds to.
The Rat's bad sides are that they can be overly critical and harsh.
Ox (January 6 – February 3)
(1961, 1973, 1985, 1997, 2009, 2021, 2033)
You can always rely on the Ox. They work hard and have the patience to see things through. They're gentle and patient with the people they love.
When the Ox is in a bad way, they can be materialistic and stubborn.
In Conclusion
Depending on the astrological system you consult, you can find your spirit animal by birthday among some very different animals.
Depending on the area of the world and its influence, animals are viewed from different perspectives, so they're not interpreted in the same way.